775.826.2628
At Nothing To It! their goal is to share their love of gourmet cooking with you. Their philosophy is to not just provide cooking classes and kitchen products- they want to teach you how to use those techniques and tools to create a wonderful meal for you to share with your family and friends. The enjoyment and satisfaction that comes from preparing and enjoying good food is what Nothing to It! is all about.
Nothing To It! Cooking School was started in 1995 at the request of friends eager to improve their skills in the kitchen. Since then, the school has grown from classes around our kitchen table to our present 6,000 square foot Culinary Center. Nothing To It! Culinary Center includes a cooking school with hands-on and demonstration classes taught by a variety of Master Chefs, a Napa Valley style gourmet deli, and a kitchen store with a wide variety of ingredients, appliances and accessories for people who love to cook.
They bring a fresh, 'non-professional' approach to culinary education. Over 500 students per month take cooking classes at Nothing To It! and thousands more are reached through Nothing To It! programs on television and radio.
Hours of Operation
Monday – Friday
11:00am – 2:00pm
Saturday
11:30am – 1:30pm
Deli closed Sunday
---
Location
THE SOUP
Nothing To It! will be serving Italian Chicken and Fennel Soup for Reno Soup Week. Present your Reno Soup Week Soup Coin with their logo on it to receive a complimentary 6-ounce cup* of this soup between January 22-29, 2023.
*upgrade from a 6-ounce cup to a 12-ounce bowl for $3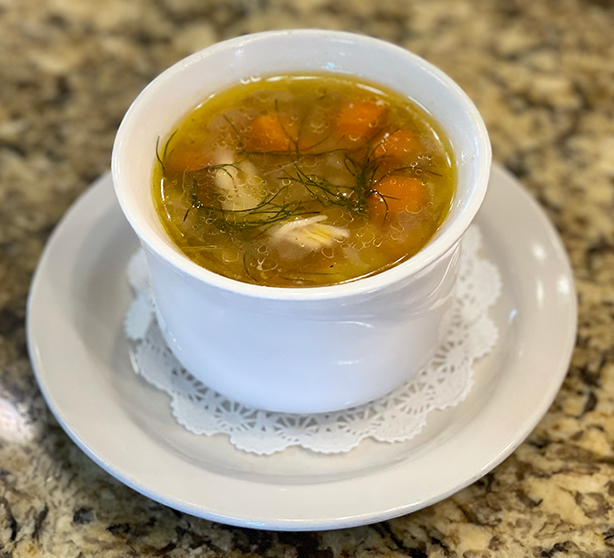 While it is not required, we encourage you to explore Nothing To It's menu and 'upgrade' your experience by ordering additional items during your visit*.
Whether you purchase additional items or simply redeem your coin for the complimentary soup,
if you dine-in, please don't forget to tip your server!
*Earn one raffle entry per each $10 spent during the week of January 22-29, 2023 at Nothing To It! by sending an image of your final receipt to Cheree Boteler via text at 775.527.2023 or via e-mail at [email protected] (receipts must be received by January 31, 2023 to receive raffle entries).
Examples: If your receipt shows that you paid $12 on the date of your visit, you will receive 1 raffle entry. If your reciept shows that you paid $35 on the date of your visit, you will receive 3 raffle entries.